Atlas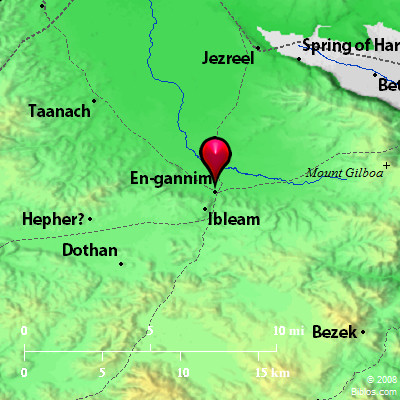 ---
Maps Created using Biblemapper 3.0
Additional data from OpenBible.info
---
You are free to use up to 50 Biblos coprighted maps (small or large) for your website or presentation. Please credit Biblos.com.
Occurrences
1 Chronicles 6:73
and Ramoth with its suburbs, and Anem with its suburbs;
Encyclopedia
ANEM
a'-nem (`anem, "two springs"; Anam): Anem is mentioned with Ramoth among the cities of Issachar assigned to the priests, the sons of Gershom (1 Chronicles 6:73). In the parallel list (Joshua 21:29), there are mentioned Jarmuth and En-gannim, corresponding to Ramoth and Anim, therefore Anim and En-gannim (Jenin) are identical. As the name denotes (Anem = "two springs"; En-gannim = "the spring of gardens"), it was well watered. Anem is identified by Eusebius with Aner, but Conder suggests the village of "Anim," on the hills West of the plain of Esdraelon which represents the Anea of the 4th century A.D. (Onom under the word "Aniel" and "Bethara"), a city lying 15 Roman miles from Caesarea, which had good baths.

M. O. Evans
---
A'NEM, same as En-gannim.
Strong's Hebrew
H6046: Anem
a city of Issachar