Atlas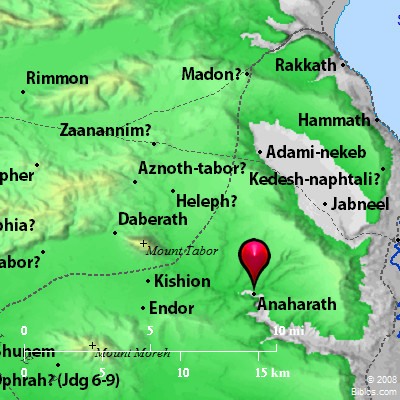 ---
Maps Created using Biblemapper 3.0
Additional data from OpenBible.info
---
You are free to use up to 50 Biblos coprighted maps (small or large) for your website or presentation. Please credit Biblos.com.
Occurrences
Joshua 19:19
Hapharaim, Shion, Anaharath,
Encyclopedia
ANAHARATH
a-na'-ha-rath ('ana-charath, meaning unknown): A place which fell to the tribe of Issachar in the division of the land (Joshua 19:19). Located in the valley of Jezreel toward the East, the name and site being preserved as the modern en-Na`-ura. BDB is wrong in assigning it to the tribe of Naphtali.
Strong's Hebrew
H588: Anacharath
a city in Issachar