Atlas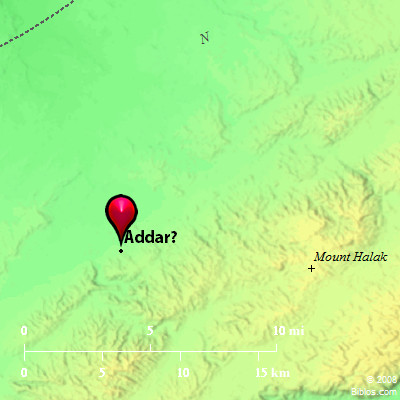 ---
Maps Created using Biblemapper 3.0
Additional data from OpenBible.info
---
You are free to use up to 50 Biblos coprighted maps (small or large) for your website or presentation. Please credit Biblos.com.
Occurrences
Joshua 15:3
and it went out southward of the ascent of Akrabbim, and passed along to Zin, and went up by the south of Kadesh Barnea, and passed along by Hezron, went up to Addar, and turned about to Karka;
Encyclopedia
ADDAR
ad'-ar ('addar, "glorious"): See ARD

(1) A grandson of Benjamin, sometimes counted as one of his sons (1 Chronicles 8:3).

(2) A town on the southern border of Judah (Joshua 15:3, the King James Version "Adar"). The same as Hazar-addar (Numbers 34:4).